Bingo? Knitting? Senior pickleball? How DO retirees spend all their free time?
Excellent question! So good, in fact, we decided to share the real-life, day-to-day doings of the retirees we know best: Holiday by Atria residents. Turns out, they've come up with some meaningful and creative ways to spend their retirement.
Whether you plan to focus on hobbies you already love, or you'd like to try something new, read on. You may be inspired by these fun things to do in retirement.
Dive right in
Jim started diving around age six when he pounced head-first from a wooden two-by-four into a creek on his grandfather's farm.
Now 79, the former diving champion, coach, trampolinist, National Fitness Hall of Fame inductee and international best-selling author isn't ready to throw in the towel just yet. Come August, Jim may be headed to Japan to compete in an international platform diving event – with his doctor's permission, of course.
"At my age, I hardly have any competition," he joked.
In the meantime, Jim stays fit by walking a couple miles on most days. He even prefers walking to doctor's appointments instead of using transportation provided by Holiday Parkside Court in Columbus, Indiana. When the weather heats up, Jim plans to build up his swimming strength in his son's backyard pool.
"He tries to follow what the doctor says, but he really wants to compete in Japan," said Engage Life Coordinator Julia Fields. "We're all hoping for the best."
When the retired kinesiologist isn't making a splash or walking laps around the neighborhood, he enjoys sharing his fitness expertise through writing. Jim's New York Times bestseller, "How to Flatten Your Stomach," sold over one million copies. In 2012, he published "Exercising and Loving It: Your Simple Lazy Way to Get Fit and Great Shape," which is now in its second edition.
Motivated to get moving? Start here.
Keep on trekkin'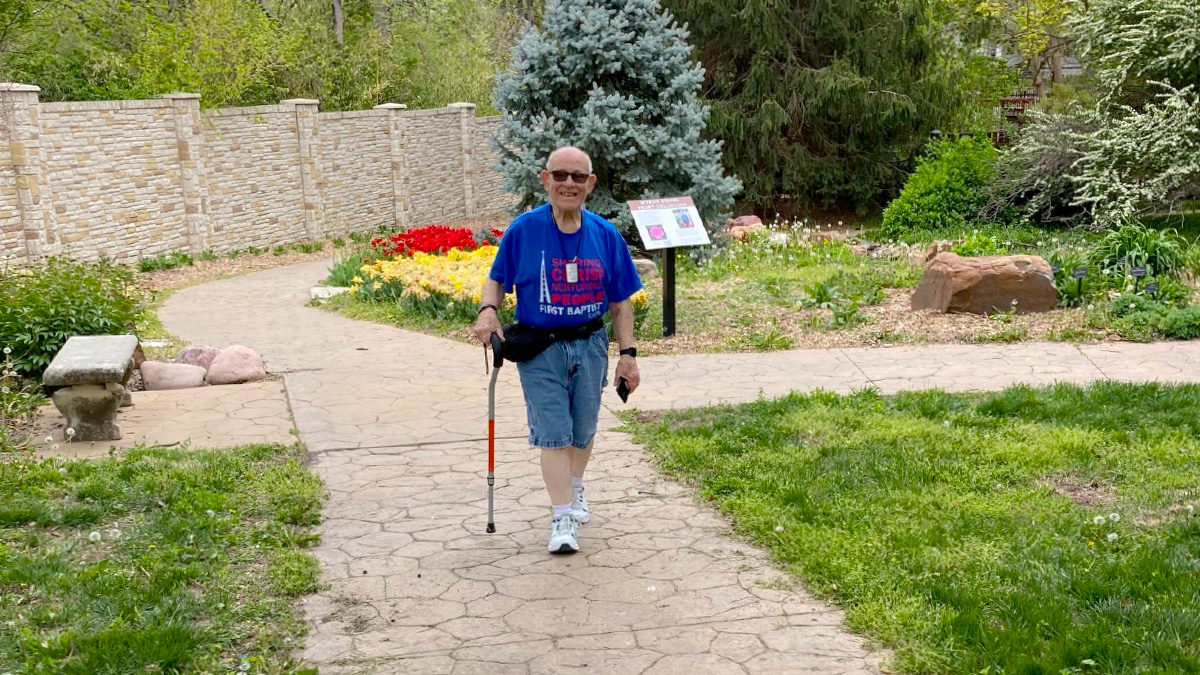 Humankind has climbed every mountain and crossed every sea. But one world conquest remains: the alleged longest walkable route on Earth – from Cape Town, South Africa, to the port of Magadan in far-east Russia.
There is no record of anyone ever completing the 13,910-mile journey. But one man keeps it in mind to inspire his own walks.
Walter resides at Holiday Thornton Place in Topeka, Kansas, and walks between seven and 10 miles every day. About eight years ago, he and his family started keeping track. They estimate Walter has logged more than one billion steps in that time, or roughly 23,360 miles.
When asked why he walks, Walter replied: "No reason. I just like to walk."
Walter also enjoys jigsaw puzzles and volunteering as an usher at his church. His advice to retirees is to "talk to young children and walk, walk, walk."
Walk this way for better health.
Spread good news
Gaye worked as a journalist for many years. She specialized in education reporting and general news stories for publications like The Chicago American (bought by the Chicago Tribune) and the Seattle Post Intelligencer and later taught college journalism.
"I enjoyed the life of a reporter," said Gaye. "I like finding out what's going on."
Now 83, she's back on the beat.
Gaye lives at Holiday Orchard Park in Yakima Valley, Washington, and works as co-editor with a small staff of neighbors to put out a community newspaper called Park Place. Each week, a handful of community reporters write, edit, publish and deliver the one-page newspaper that includes articles about residents and special series focused on topics like pets.
The residents came up with the idea in 2022 as a way to combat two years of isolation and negative news caused by COVID. The first edition appeared in August 2022 and was an immediate hit.
"We like giving residents something positive to read on a weekly basis," Gaye explained.
The first issue featured an inspiring article about Barb E., a resident who is visually impaired yet takes pride in completing jigsaw puzzles using her sense of touch.
Another article highlighted resident Virginia N., who walked 3,492.2 miles in one year during the COVID pandemic as part of a virtual challenge.
Naturally, everyone looks forward to the "Newbie Alert" column, which introduces new residents. Such articles help break the ice and help people connect.
The newspaper also includes upcoming events, safety tips and updates on community service projects, like food or clothing drives and crocheting hats for Camp Hope.
Whether Holiday residents are making the news or reporting it, they're spending their retirement doing what they love.
Like to write? Record your life story.
Dig your roots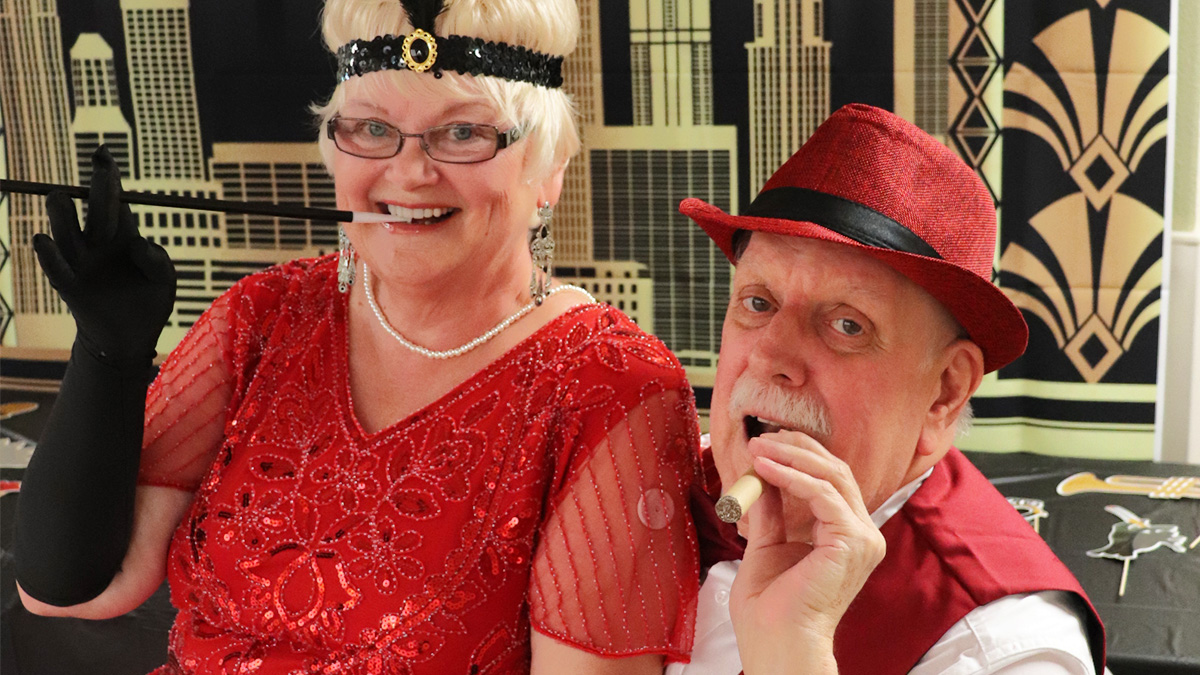 Every day's a party for Jim and Deb, residents at Holiday Mallard Point in Cedar Falls, Iowa. Jim wears a different hat every day of the week, and on special occasions, the couple dresses up in full costume.
But Jim and Deb go deeper than just having a good time. The pair have continued tracing family trees started by Deb's older cousins and branched out to research Jim's. They upload their work to Ancestry.com so others can reference their findings.
Two fun facts they've uncovered suggest Jim's ancestors may have traveled to the New World aboard the Mayflower. They also helped a neighbor at Holiday uncover ties to the King himself, Elvis Presley.
What's lurking in your family tree? Look here.
Break a leg
Retired teacher and private pilot Brenda does a bit of everything – traveling, volunteering, tutoring – but theater is especially close to her heart.
While enrolled in acting lessons at the local Playhouse Merced, she got an idea and approached the Playhouse director. Soon after, the Playhouse partnered with Holiday The Hampshire to bring a theater program to Brenda's community in Merced, California.
With help from Playhouse volunteers, The Hampshire Players came into being. Every week, residents practice their parts reading aloud from scripts. Three times a year, they perform in front of residents and guests. The Players even learned not to say "good luck" before going on stage. Instead, superstitious actors prefer "break a leg" with the hope the opposite will happen.
Brenda has gone on to audition for plays at The Hampshire Players. She recently landed a supportive role in Calendar Girls and performed on stage in front of a live, paying audience.
"That idea wasn't really on a bucket list – because I don't have one of those," she says with a laugh. "I just do whatever I want to do."
Act your age. On stage.
Get crafty
It could be in the water – or maybe the people of Frankenmuth, Michigan, are naturally creative. That's certainly the case at Holiday Winter Village.
Photography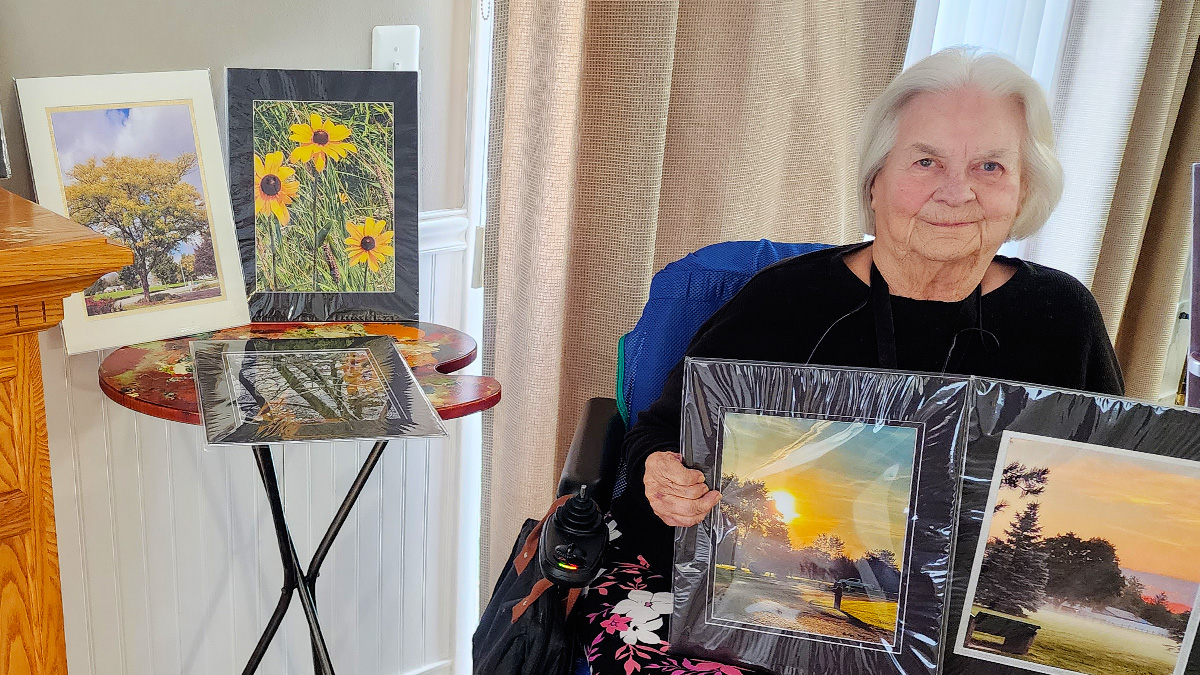 Engage Life Coordinator Christiane Keilhofer says one resident's artwork will soon be featured in the community's elevator display boxes.
"Carolyn has a great eye," said Christiane. "She takes photos with her smartphone from her power chair as she zips around the neighborhood!"
Before retiring at age 62, Carolyn wore a lot of hats. She taught secondary English and college-level sociology. She worked as a public school administrator, school band director, and was elected president of the teacher's union. For several years, she was employed as a graphic designer at a financial firm in New York City.
Following retirement, Carolyn got involved in music as a pit orchestra and band director for local community musicals.
Now 87, Carolyn resides at Holiday Winter Village and uses her smartphone camera to capture nature's beauty in every season. She also takes portraits of residents and gives each a printed photo framed in a decorative mat.
Picture this: Take better photos with your smartphone.
Quilling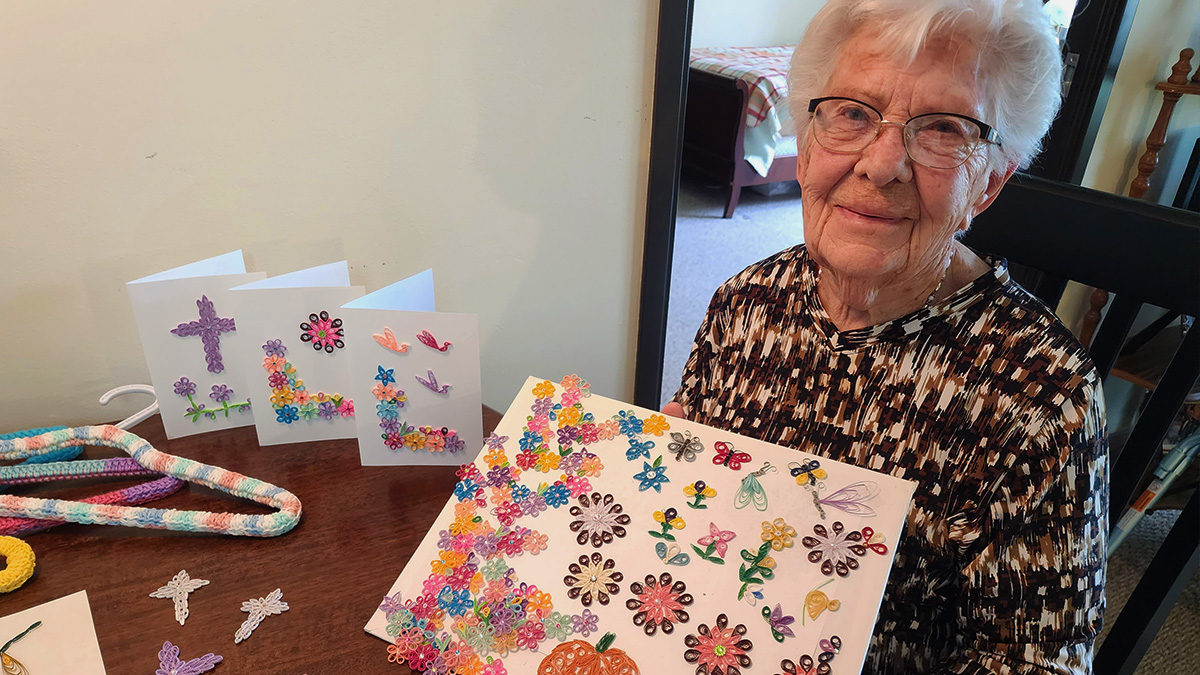 After raising five children and running a farm, Mable retired at 62 along with her husband. She kicked off her retirement by taking up golf, basket weaving, macrame and sewing.
Now 101, the Holiday Winter Village resident is still adding craft hobbies to her list, most notably quilling. Also called paper filigree, quilling is the art of rolling thin strips of paper into intricate designs. Although its origins are unknown, some suggest it began with the invention of paper in China around 100 AD or in ancient Egypt.
Whenever a new resident moves in, Mable creates a door sign with their name and quilling embellishments. Engage Life Coordinator Christiane Keilhofer says residents are touched by the beautiful gift.
Mable also creates greeting cards decorated with quilling and crochets clothing hangers to donate to charitable auctions.
But quilling and crafting aren't Mable's only sources of fun. Every day she plays bridge, euchre, pinochle, dominoes and mahjong with her neighbors. And yes, she plays to win.
Quill curious? Check out this basics tutorial.
Painting
Wendy was diagnosed with Parkinson's disease at age 29. For 22 years, she worked at the Henry Ford Hospital as the office manager of the psychiatric services center. After Wendy retired, she started a desktop publishing business designing brochures and fliers for bed and breakfasts and the Audubon Society.
Today, Wendy is 68 and a thriving resident of Holiday Winter Village, where painting has become her passion. Its therapeutic ability to help Wendy relax and reduce stress pairs perfectly with its expressive aspects. Wendy gives her paintings to neighbors as gifts and has introduced painting therapy to the community's grief support group.
Art for the heart: Learn the benefits.
Woodworking
Soon after moving to Holiday Winter Village, Tom wanted to go straight back home. He missed his woodshop, but his family wanted him to stay at Holiday. That's when Katie Rousseau, the General Manager, got an idea. She offered Tom space on the community's lower level to create his new woodshop.
Tom agreed to stay and resumed making canes out of hemp stalks he grew in his garden. He used to sell the canes at craft fairs but now only sells them upon request.
When asked what advice he'd give regarding retirement, Tom said, "Don't lose your interests. Keep busy."
Chop-chop: A beginner's guide.
Quilting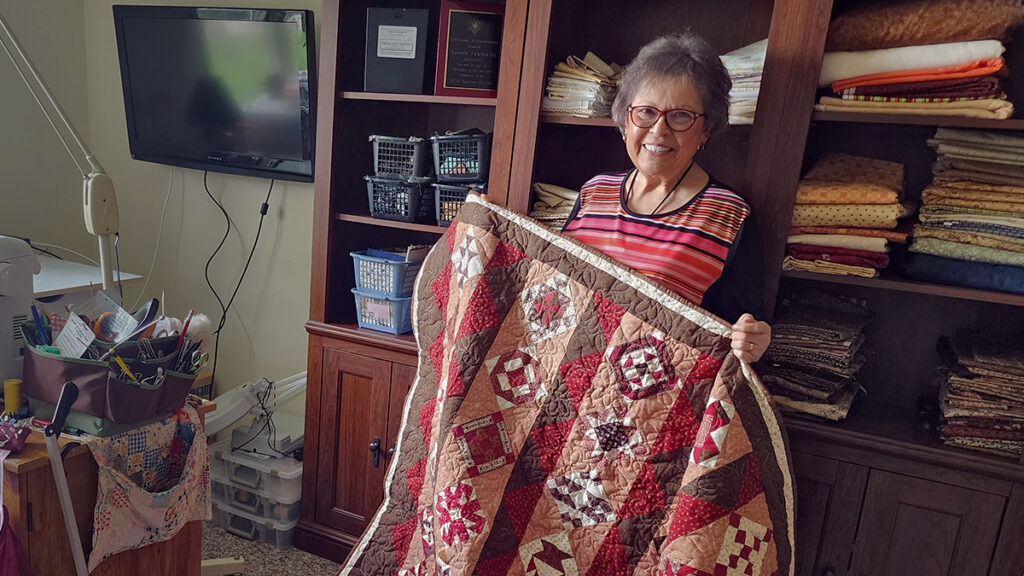 Theresa owned and operated a retail store in Frankenmuth for 21 years called Pewter Kingdom. About 16 years ago she retired at the age of 65 and began quilting because she liked the way it looked.
In fact, Theresa taught herself how to quilt with a kit she purchased at a quilt show and never looked back. At Holiday Winter Village, she lives in a two-bedroom apartment and dedicates her second bedroom to the craft.
Theresa's retirement advice is, "Start a hobby…do something. Keep learning things. Don't just sit around and do nothing!"
Sew much fun: Get quilting.
Jewelry-making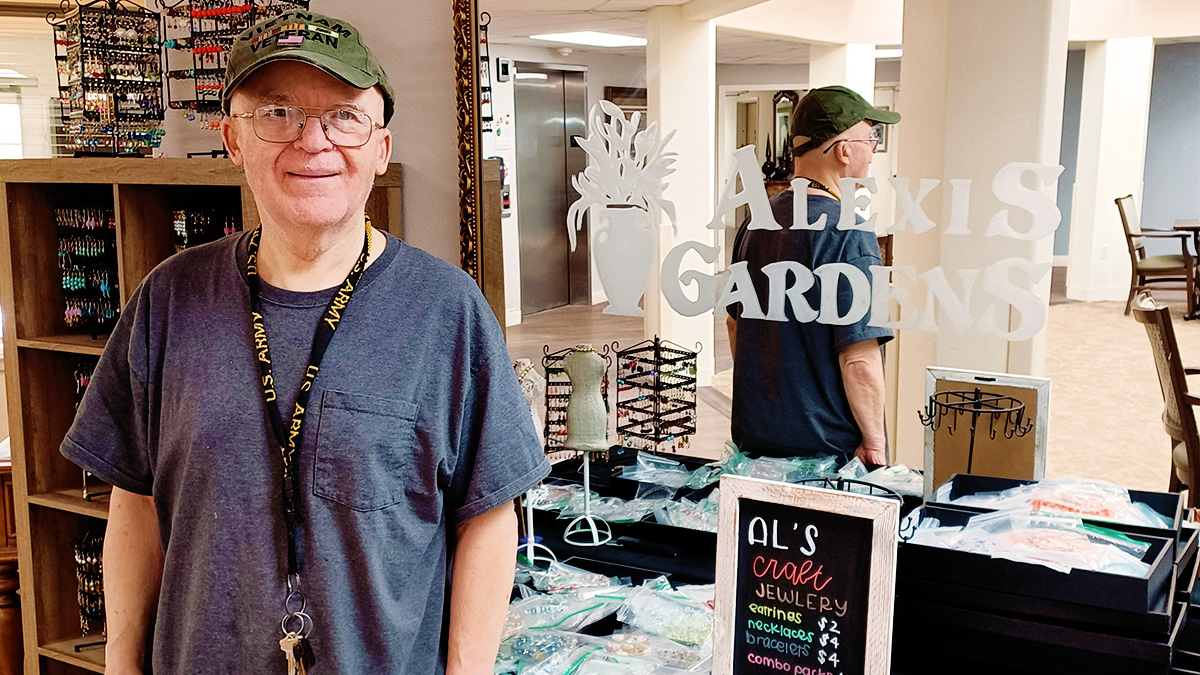 Allen doesn't live at Holiday Winter Village with the crafters described above, but he's certainly creative enough to merit a mention.
The 75-year-old Vietnam veteran has been making jewelry for about 10 years at Holiday Alexis Gardens in Toledo, Ohio.
The idea came to him a few years ago after he started making necklaces with beads left over from community crafting events. As his creativity grew, he designed earrings and bracelets. Residents make special requests, and Al's satisfaction in creating beautiful jewelry for others continues to expand.
The retired machinist also enjoys lending a hand around the community and was recently given the community's High Five Hero award for his contributions.
The need to bead: Start here.
***
What do YOU want out of retirement? We've created a worksheet to help you figure it out.
Download our handy resource here
At Holiday by Atria, we encourage residents to stay active by participating in community events as well as engaging in their own personal hobbies and pursuits. To learn more about life at Holiday, contact a community near you.