Retirement travel is booming again. Following a pandemic-related drop over the past three years, Americans over 60 years old once again reign as the age group most likely to travel. Climb aboard for travel tips and retirement vacation ideas that are just right for older travelers.
What makes older travelers special
Being a senior is a great time to hit the road. You're more likely than most younger travelers to get away on short notice, be away for as long as you want and take advantage of limited-time travel deals. Want to travel coast to coast on an Amtrak train? Get chugging. Considering an RV trip to see all the Major League Baseball stadiums? Knock it out of the park. Ready to explore the open road without blowing your budget? Don't miss out on all the travel discounts for seniors.
Let's map out eight great tips for retirement vacations.
1. Not sure where to visit? Check out these top vacation spots for U.S. seniors
Adirondack Mountains, New York
Compared to the hustle and bustle of urban New York, the Adirondacks are both beautiful and accessible. Whether you want to relax in a quiet cabin, enjoy shopping, culture and great food, or have the urge to travel scenic backroads, the Adirondacks are a sparkling gem.
Senior travel tip: Visit during autumn when the Adirondacks explode with vibrant fall colors.
Plymouth, Massachusetts
History abounds in and around Plymouth. Be sure to visit America's oldest museum, the Pilgrim Hall Museum. You'll find artifacts that date back to the Mayflower and get close enough to touch a piece of Plymouth Rock.
Senior travel tip: Visit Plymouth in the spring to avoid summertime crowds.
Wilmington, North Carolina
If you can't decide between the city and the beach, enjoy both in Wilmington. The seashore is inviting, the Riverwalk offers shopping and dining, and the Cape Fear River provides stunning views.
Senior travel tip: Spend less by visiting in the spring or fall to take advantage of all the free and low-cost special events, plus discounts on great places to stay.
Charleston, South Carolina
History and Southern charm abound in Charleston. Top attractions include the Fort Sumter National Monument, Waterfront Park and the Battery promenade, with great views of Charleston Harbor.
Senior travel tip: Enjoy a senior discount at the Gibbes Museum of Art.
Williamsburg, Virginia
Williamsburg is home to 26 original Colonial houses. Visitors stretch their legs on walking tours, watching history come alive while getting a taste of what life was like for early Americans before 1776.
Senior travel tip: Be on the lookout for famous historical characters as you walk the streets of Williamsburg. You might encounter some of our Founding Fathers or bump into Martha Washington.
St. Augustine, Florida
St. Augustine is our country's oldest continuously occupied European settlement, dating back to the start of Spanish rule in 1565. Take a journey through the past on St. George Street in the historic district.
Senior travel tip: Get around on the hop-on, hop-off trolleys. They make sightseeing easy and typically offer discounts for seniors.
Mackinac Island, Michigan
One of the Great Lakes' greatest spots, travelers enjoy Mackinac Island by foot, on bicycle, or horse-drawn carriage. There isn't a car in sight, as motorized vehicles were outlawed on the island in 1898.
Senior travel tip: Explore Mackinac Island State Park for awe-inspiring forests, lake views and limestone cliffs.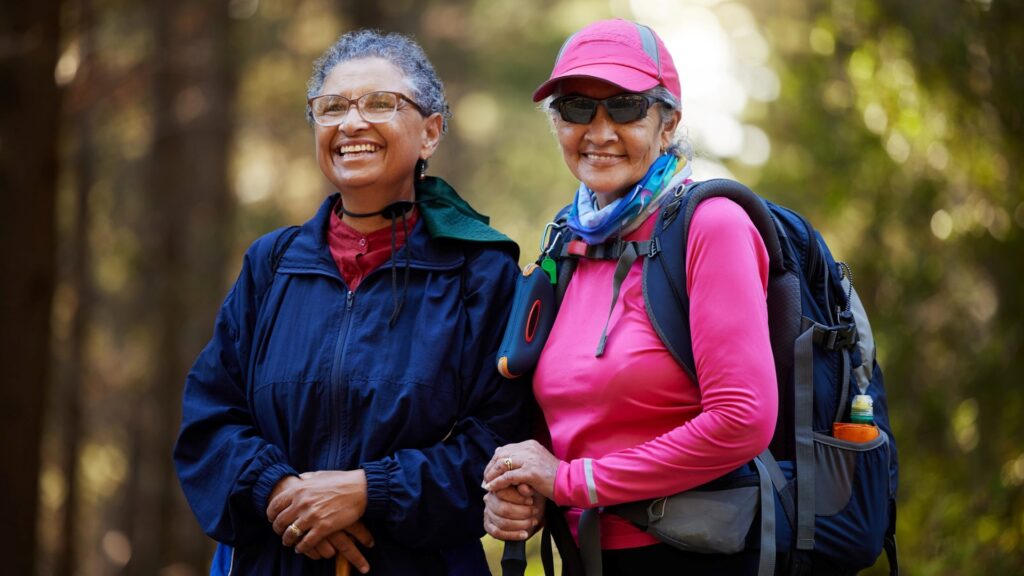 Hendricks County, Indiana
Many older travelers will feel at home in this western suburb of Indianapolis. Enjoy a meal at an authentic 1950s-era eatery, the Oasis Diner. You'll also want to dig into the area's many fun activities, including the Heartland Apple Festival or the Hendricks County Rib-Fest.
Senior travel tip: To get the scoop on everything the area has to offer, travel over to this website: Visit Hendricks County.
South Dakota
Longing for a classic American road trip? Head for South Dakota to see the Badlands, Mount Rushmore National Memorial, Crazy Horse Memorial and Custer State Park.
Senior travel tip: Don't miss your chance to swing by Wall Drug, America's favorite Western-themed-restaurant-pharmacy-shopping-mall-donut shop.
Estes Park, Colorado
Explore 800 acres bordering Rocky Mountain National Park to find swimming, rock climbing, zip lining, arts and crafts, fishing and more.
Senior travel tip: Visit the YMCA of the Rockies website to make booking your stay easy.
Santa Fe, New Mexico
America's oldest state capital, Santa Fe combines history, culture and beauty. Many galleries, museums and restaurants are an easy stroll from the town square.
Senior travel tip: Go on a trail walk and take in epic, breathtaking views.
Yakima, Washington
One of the coolest small cities in America, this senior-friendly area overflows with craft breweries and more than 100 wineries. Budget-minded travelers will love the reasonably priced fresh produce at the local farmers market and pick-your-own-produce farms.
Senior travel tip: If you're the thrill-seeking type, check out white-water rafting on the Tieton River.
The California Coast
Highway 1 between San Simeon and Carmel (also known as the Big Sur Coast) is among the top retirement trips for older travelers. The scenery is amazing, and many inns offer ocean-view rooms.
Senior travel tip: Travel a little further north to San Francisco and ride a classic cable car, then drive across the world-famous Golden Gate Bridge.
Kauai, Hawaii
It doesn't take long for visitors to understand why Kauai is called the "Garden Isle." Limahuli Garden and Preserve is one of our country's most beautiful natural botanical gardens.
Senior travel tip: Don't miss Kauai's stunning Waimea Canyon Outlook.
America's National Parks
America's 63 National Parks are as affordable as they are beautiful. Stretching from the Everglades in Florida to Denali in Alaska, these permanently protected wilderness areas put you directly in touch with nature.
Senior travel tip: Get your National Parks Pass for Seniors to enjoy special discounts for older travelers.
2. Right in your own backyard: Take a staycation
Ready to get away from it all without going too far? Stay closer to home with staycations! Ditch the housework for a little while, and plan nearby outings without a long drive or a plane ticket. Treat yourself to a manicure, take in dinner and a movie, or just take a long, leisurely stroll in the park.
Senior travel tip: Plan your staycation the same way you would a fun out-of-town trip.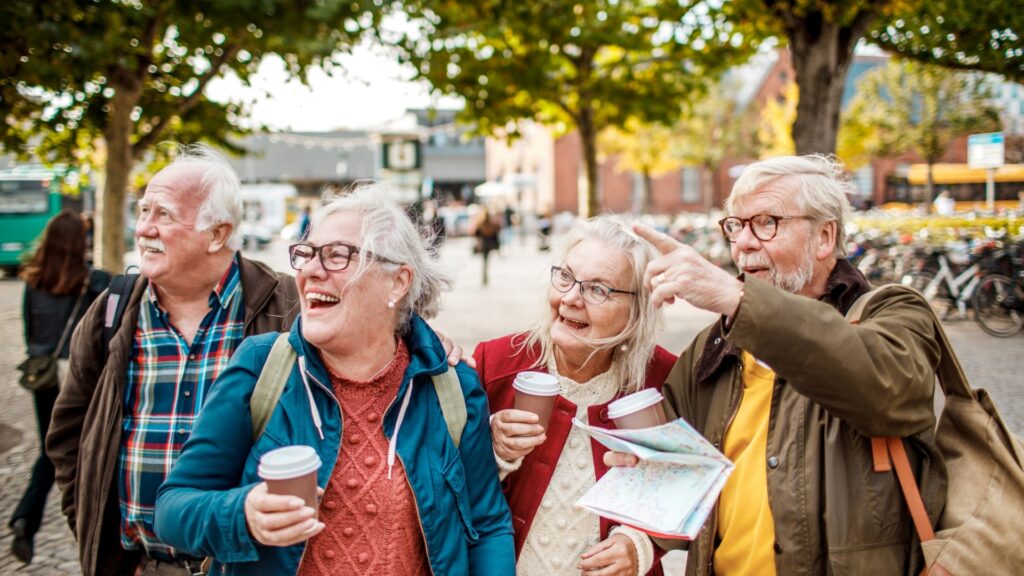 3. Regional travel: Spend less time on the road
You might be surprised to find some of the hidden gems nearby that don't require a plane trip or even a long drive. The quicker you get to your destination, the more time you have for relaxing and having fun. Regional travel helps you avoid the travel fatigue that's typical of long-distance trips. Step out of the rush and appreciate closer-to-home destinations in a deeper, more relaxed way.
Senior travel tip: Contact a local travel agent to find senior discounts that might not be listed on the internet.
4. Going the distance: Head out on a coast-to-coast road trip
Have you been on the ultimate car trip, driving from sea to shining sea? This is a trip that can be done in a few days – or enjoyed over many months. No matter how fast you do it, it's a unique vacation that lets you experience the states up close. You'll encounter every imaginable type of scenery, immerse yourself in multiple cultures, sample regional foods and meet some amazing people.
Senior travel tip: Before you leave on a coast-to-coast journey, be sure to plan ahead. Don't set out on a long car journey without mapping it out first.
5. Unpack and relax: Cruise to paradise
Whatever you want in a vacation – relaxation, great food, sightseeing or a bit of adventure – there's a cruise that delivers it. Many cruise lines cater to the senior market and attract cruisers with special discount prices. Take advantage of deals on everything from cruises geared toward single seniors to all-inclusive, budget-minded packages for senior couples.
Senior travel tip: Check out Cruise Critic's best cruise lines for seniors to find the best cruise for you.
6. At home on the road: Go RVing
Many seniors prefer traveling in a home on wheels, be it a camper, a trailer or a fully outfitted recreational vehicle. If that sounds like fun, check out this advice on picking out an RV.
Senior travel tip: If you don't already have an AAA membership, look into signing up for one to give yourself some extra peace of mind on the road.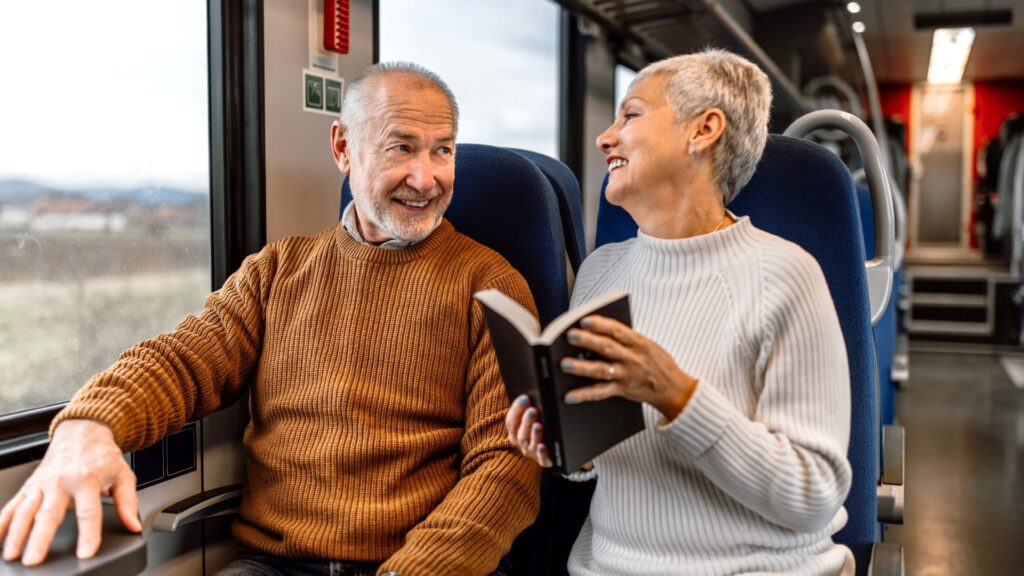 7. On track for fun: Ride the rails
There's something romantic and nostalgic about seeing our great country from a picture window on an Amtrak train. Traveling by train helps you avoid crowded airports, sky-high airfares and the stress of driving.
Senior travel tip: Amtrak offers a senior discount on most trains for travelers 65 and over.
8. Limited mobility? Explore unlimited options
Older people with limited mobility have virtually unlimited options for fun, secure travel. From Niagara Falls State Park in New York to Denali Park in Alaska, you'll find safer paths and wheelchair accessible areas that cater to seniors with mobility challenges.
Senior travel tip: Consider working with a travel agent or tour company that specializes in vacation planning for people with physical limitations.
The right time for retirement travel
Seniors across America are having the time of their lives traveling, and there's no time like the present to plan your next trip. Now that you've learned plenty of trip ideas and vacation strategies, the only question left is: Where will you go next?