In 2022, older Americans lost more than $3 billion to internet fraud. Seniors are "prime targets for scammers," says Benjamin Taylor, a staff attorney at the Legal Aid Society and a former Elder Justice Fellow. In fact, seniors are the most-targeted demographic for online scams.
Why? Taylor says older adults are perceived as less savvy and didn't grow up using the internet. And when scammers look at seniors, they see dollar signs – the result of long careers and retirement savings.
Unfortunately, data breaches make it easy for cybercriminals to pinpoint older adults. On the dark web, hackers sell lists of personal information, which can include everything from your date of birth to your Social Security number. This information allows fraudsters to identify seniors they hope to scam.
Yet scammers only have access to bits and pieces of personal information, meaning they rely on a potential victim falling for requests to provide the additional data they need. Once they get the final pieces of the puzzle, scammers can access bank accounts or open credit cards. Other tactics involve convincing you to make wire transfers or payments, send gift cards or otherwise hand over your hard-earned money.
But the news isn't all bad. Understanding how internet fraud happens empowers you to protect yourself. In fact, even basic knowledge about internet fraud can help reduce the risk of being victimized. Follow these simple steps to make the web a safer place to shop, bank and socialize.
1. Know the common signs of a scam
"Scams are always evolving," according to Taylor. That said, there are tactics fraudsters commonly use that should set off alarm bells. "Don't respond to unexpected requests for information," Taylor advises. Think critically about emails or phone calls that create a sense of panic and pressure you into an immediate response.
Taylor gives the example of a phone call alerting a senior that their Amazon account has been hacked. "There are two elements to a scam 'pitch': an alert about something really bad and pressure to act really quickly," Taylor says. His advice is to hang up the phone or ignore the email and verify any claims at the source. In the Amazon example, this means logging in to your account from a fresh tab in your internet browser – never click login links from an unexpected email, or any other links, pop-ups or files.
In short, take a deep breath any time a phone call, email or pop-up message prompts you to provide information – or even remote access to your computer – right away. Identifying a potential scam in the heat of the moment is a skill that can save you a lot of money and heartache.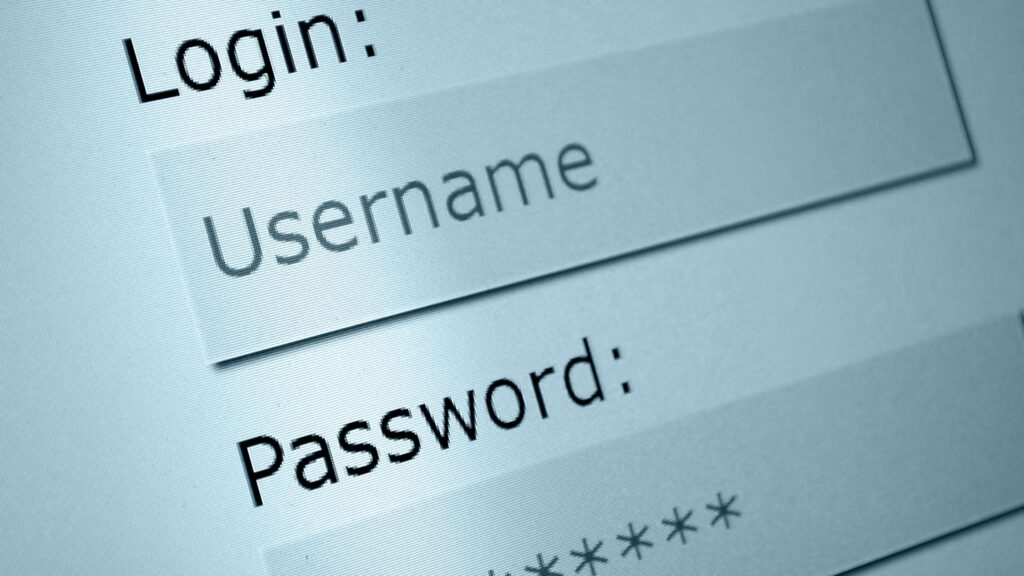 2. Use a different password for every account
Strong, unique passwords are essential for safe internet accounts. "Be protective of passwords and credentials and vary them," Taylor says. Even when using best practices, credentials can be compromised by hackers. As he puts it, "If your Netflix password is the same as your bank password, you can't isolate the damage as well." A strong password should be composed of 12 characters or more. To keep track of passwords, use a reputable password manager, which can help you generate a unique password for every website.
Taylor also recommends thinking carefully about sharing your passwords with family members. At times, he warns, victims of identity theft and other fraud know the perpetrator.
3. Double-check URLs
Shopping online offers unbeatable convenience. But it also comes with risks. Taylor suggests vetting companies and websites for peace of mind. A trusted resource is the Better Business Bureau, which offers a searchable database of consumer complaints.
Once you feel confident about a business's reputation, there's one more step before clicking "add to cart". Verify the website you're on isn't a spoof or duplicate scam website with a similar URL to your desired site. For example, Amazon's official website is www.amazon.com. A spoof site might include "amazon.com" at the beginning of a URL, like this: www.amazon.com.security-passwordXYZ.com. In this case, the website domain is actually "security-passwordXYZ.com."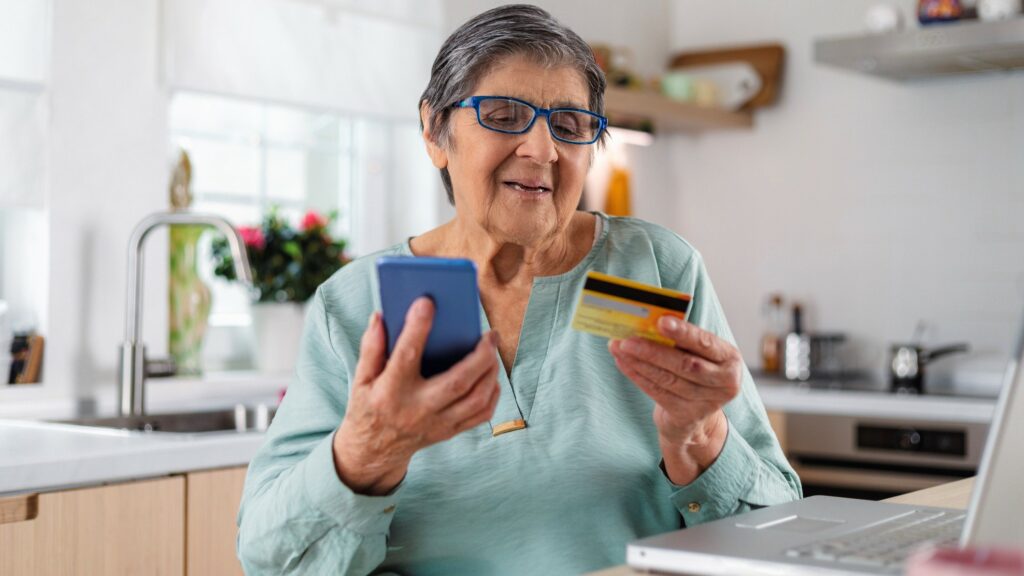 4. Shop with a credit card
Recouping money lost to a scam can be difficult – or even impossible. Shopping online with a credit card instead of a debit card minimizes the chance of big losses. Debit cards can grant scammers access to a victim's savings. On the other hand, credit cards are backed by credit card companies with robust fraud-prevention teams.
5. Keep an eye on finances
It's a good idea to check bank balances and credit card statements on a regular basis. Knowing the status of accounts allows you to spot fraud right away. Consumers are entitled to one credit report each year, and checking your credit is another great way to ensure you remain free from fraud.
If you notice unusual activity on a credit card statement, call your credit card company using the phone number printed on the back of your credit card. And if you receive an unsolicited text message or email claiming to be from your credit card company's fraud department, also use the phone number printed on the back of your credit card. This way, you can verify the message is legitimate.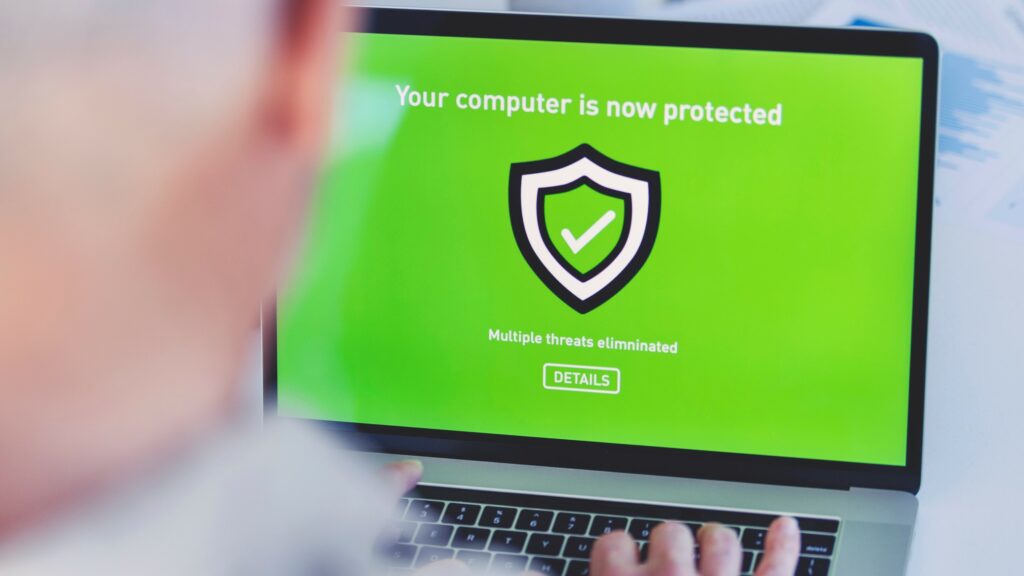 6. Audit security practices
"Prevention is best," Taylor says. Ensure that all the software on your computer and phone is up to date; software updates may contain security patches that resolve vulnerabilities. Installing reputable antivirus software is another key prevention tactic.
And if your devices aren't password protected, now is the time to start! Otherwise, any devices that fall into scammers' hands can provide them with a wealth of sensitive data.
7. Shop from home
Hackers can take advantage of online transactions that are processed over public Wi-Fi. It might be tempting to shop online over a cup of coffee at a café or to browse for sales while waiting to board a flight. But secured, private networks are your best bet for staying safe. If you must complete a transaction on an unsecured network, consider using a VPN.
8. Think it through before you post
Sometimes social media users give away more information than they think. A photo of kids or grandkids from out of town with the location tagged can indicate that you're away. Likewise, posts about school reunions or genealogy can provide others with answers to common security questions. Take a look at your privacy settings to make sure that only friends and family can access your social media profiles and wait until you're home to post travel photos.
In addition, scammers often clone or duplicate social media accounts. If you receive a friend request from someone you've already connected with on a particular social media platform, call or email your friend to confirm if they've created a new account.
9. Know what to do if it happens to you
Cybercrime happens. If you are targeted, be proactive. Call your bank or credit card company right away. Visit IdentityTheft.gov for in-depth checklists describing what other actions you can take based on your unique circumstances. Following this, Taylor advises calling your state attorney general. "Internet fraud is difficult to prosecute," Taylor says, "but reporting what happened can help others."
Taylor also adds that there are federal restitution funds for victims. This means even if the perpetrator isn't brought to justice, you may be able to recover some or all of the money you've lost.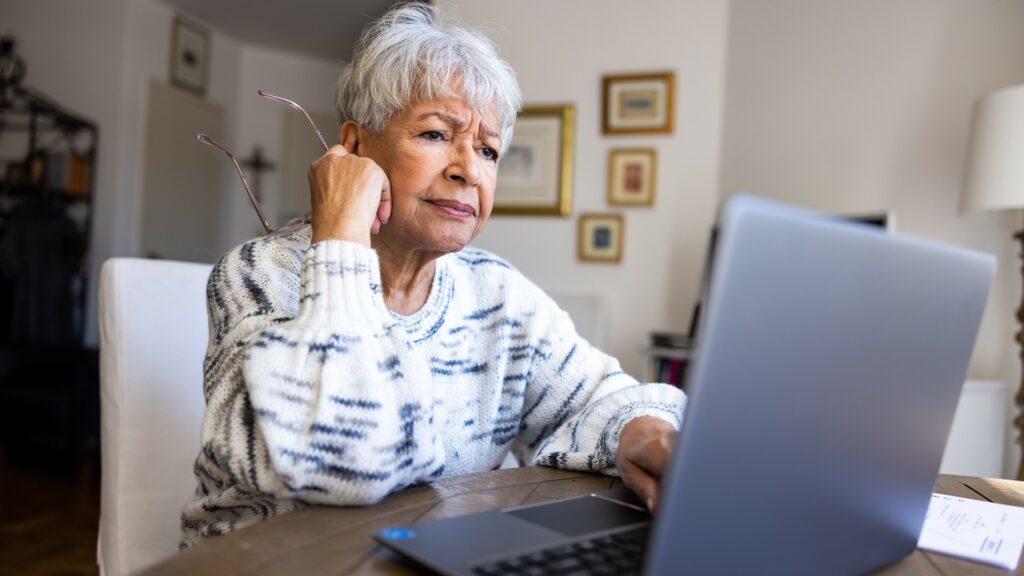 10. Be wary of requests for gift cards
"A big red flag is any request for payment through gift cards," Taylor warns, saying it's a "dead giveaway" of a scam. He cautions there's no reason a legitimate source would ask for a gift card for payment. Fraudsters request gift cards because they are impossible to trace. Once a gift card has been purchased, the money of the fraud victim cannot be recovered.
Gift cards also play a prime role in romance scams. The Federal Trade Commission cautions online daters to "never send money or gifts to a sweetheart" without meeting them first in person.
Another way to stay safe? Look for love the old-fashioned way by surrounding yourself with like-minded active seniors. Holiday by Atria communities offer a close-knit environment and have helped many seniors find their match. Just ask Ross and Marilyn.
Keeping yourself safe online requires consistency, so it's a good idea to schedule an annual credit report and regular reviews of bank statements on your calendar. You can also stay up to date with the latest internet scams by periodically checking the Cybersecurity and Infrastructure Security Agency's website.
At Holiday by Atria, older adults' peace of mind is important to us. That's why we're a proud sponsor of the Legal Aid society's efforts to prevent the financial exploitation of seniors. And at our communities, we not only prioritize safety and security but also enhance life with a full calendar of social events, local transportation and homestyle meals. To learn more about life at Holiday, contact a community near you.